Industrie Schneidmaschinen Aufschnittmaschine manuale volano SP 300 handbetrieb - La Dolce Vita -
The proposed model meat slicers for sale is not antique, is new production and Made in Italy!
The name is "Old Style" and is manufactured to bring the flavorsof the old Liberty Art-Nouveau times. Employing similar materials as in the past, cast iron, crome-plated components, kiln varnishing, (the colors can be custom made) and final decorations.
The machine has smaller dimensions, is manuallyoperated, and features a flower patterned flywheel and incorporated blade sharpener.
The machine is CE norms, and is equipped with blade protecting ring. Blade size: 300 mm .
Dimensions: 75x47x58
Optional:Cast Iron Pedestal height:150 cm Price: Euro: 950.00 (to be added to the priceof the slicer)
Packaging: In wooden case
Shipment: Worldwide
The manufacturers, apart from patented and production the Old Style, is an artisan company specialized in the restorationof antique slicing machines. Available professionally restored Berkel models are Model 3, Model 5 ,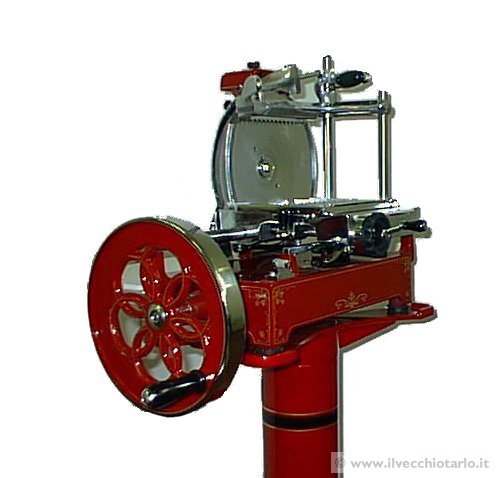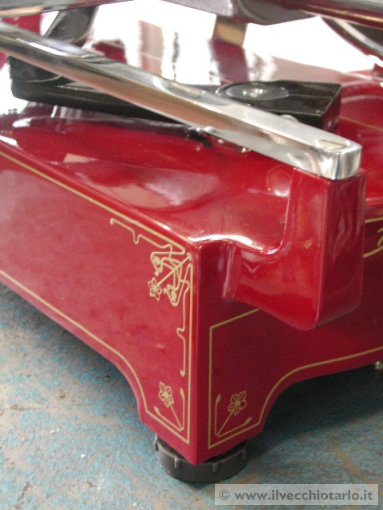 Return Shop online Antique Berkel meat slicers
Ideal Supermärkten-Haus-Restaurant-Gaststätte-Kantinen-Metzgerei-
Pizzeria-Gastronomie-Hotel-Restaurantbedarf-Küchen-слайсер автоматический berkel